home > recipe index > beverages > page three

Beverage Recipes - page three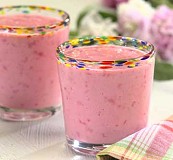 Cherry Tofu Smoothie
2 cups frozen tart cherries, thawed and drained, or 1 (16-ounce) can tart cherries, drained
1 (12.3-ounce) package light silken tofu, cut up
3/4 cup 100% ready-to-drink cherry juice
2 tablespoons honey
9 frozen or canned tart cherries, for garnish (optional)

In a blender container, combine 2 cups cherries, tofu, cherry juice and honey. Cover; blend until smooth. Pour into 3 glasses. If desired, thread 3 cherries on each of three 6-inch bamboo skewers. Use to garnish beverages. Serve immediately.

Makes 3 (1-cup) servings.

Nutrition Facts per Serving: 187 calories, 1 g total fat (0 g saturated fat), 0 mg cholesterol, 132 mg sodium, 36 g carbohydrates, 1.5 g fiber, 9 g protein.
Dietary Exchanges: 2 fruit, 1-1/2 very lean meat.
Festive Cherry Punch
4 cups cherry juice blend, chilled
1 (l-liter) bottle ginger ale, chilled
Ice ring (instructions follow)
Just before serving, combine cherry juice blend and ginger ale in a large punch bowl. Add ice ring.

Makes about 16 servings.

For decorative ice ring: Place a ring mold or other decorative mold in freezer; let chill. Rinse inside of mold with cold water; return to freezer until thin coating of ice forms. Cover the bottom of the mold in a decorative pattern with maraschino cherries. Gently add enough cherry juice blend to just cover fruit. Freeze until firm. Gently add more cherry juice blend to fill mold completely. Freeze overnight, or until firm.

back to recipe index | beverages page two